Monthly Quiz : Radio Prague January 2018 announced. Listeners have to answer a simple question again for this contest. Question are highly focused on Czech History, culture or tradition. At the end of January 2018 Radio Prague select six winners from the correct answer.
January 2018 question, will drive listeners to discover on of the oldest castle/Chateau of Czech. It's not only using by modern Czech President also used by the President of Czechoslovakia.
Question Radio Prague January 2018 Quiz
What is the name of the summer residence of Czech or formerly Czechoslovak President, used since 1921?
Listeners have to send the answer before the end of the month. Answer can send by email or regular mail to Radio Prague.
Czech President's Summer Residence
The Castle is not very far from Prague. It's only 35 km away and in the Central Bohemian Region. Beside the main landmark, the Chateau, there are also have a Sports Car Museum and the Museum of the first President of Czechoslovakia.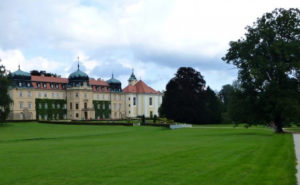 It's usually closed for public, but anyone can visit its large park and greenhouse. Village Lány has a long history.  It mentioned as a fortress in the year 1392. It was a part of royal dominion Křivoklát since 1589. Later a castle build on a site of the fortress.  Then it used as a summer house of the emperor. The Castle rebuilt into the early Baroque style in the year 1652.
Its changed owners many times. There was a major re-construction in 1902-1903. Czechoslovak state purchased it in 1921 and designed it as a summer residence of President. The Castle Lány used rarely in the communist era and now closed for public.
Want to know more on this castle visit Castle Lány into Wikipedia. Radio Prague also have many features on  Castle Lány into their web.
Social tagging:
Quiz
>
Radio Cz
>
Radio Prague
>
Radio Quiz