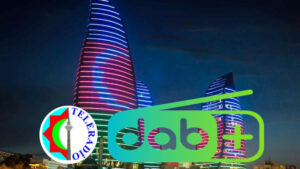 To Support The European Electronic Communications Code (EECC) requiring all new cars sold to include digital radio from December 2020, Azerbaijan takes first steps toward DAB+ deployment. EECC is having reverberations well beyond the EU, as evidenced most recently by the growing interest among the network operator and broadcasters in Azerbaijan. In Azerbaijan broadcast radio is the predominant source of information and entertainment in the car.


Azerbaijan : first steps toward DAB+
Representatives from network operator TeleRadio PU and the Azerbaijan Automobile Dealers Association (AADA) met recently. They discussed how to ensure the DAB+ digital radio in Azerbaijan. It also included as standard in all new cars imported and sold in Azerbaijan. They also considered how to promote the benefits of DAB+ in the car to radio listeners. DAB+ is currently available only as an installed aftermarket device.
AADA confirmed it will carry out a review of the current radio landscape in Azerbaijan, with particular focus on DAB+. Which include market research to understand more fully the perceptions and needs of both drivers and car dealers. In relation to radio Teleradio PU committed to providing financial support for the launch of consumer marketing campaigns aimed at raising driver awareness of DAB+ digital radio.
Azerbaijan's network operator Teleradio PU joined WorldDAB in June 2020. This cooperation is to help inform their process as they work toward implementing DAB+
---
Source: WorldDAB News
---
To Support The European Electronic Communications Code (EECC) requiring all…
রেডিও ভেরিতাস এশিয়া এর ৫০ বছর পূর্তি উপলক্ষে – বাংলা…
আগস্ট মাসের শেষ সপ্তাহে রেডিও জাপান NHK September 2019 বাংলা…
ABC DXING
Visit Us and unplug your radio listening Hobby
DXing Hub
Surf on Radio Wave
S21TS
CQ CQ CQ
DXing Hub
Surf on Radio Wave
Social tagging:
Azerbaijan
>
DAB