Test your knowledge of things Czech! Join Radio Prague February Quiz contest and win a Radio Prague prize!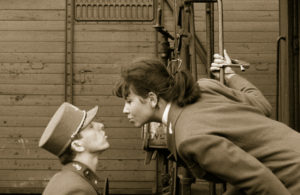 Radio Prague February Quiz focused their question on a Czech writer, who died 20 years ago in this 03 February.  The author regarded as one of the best Czechs writers of the 20th century.  He was born in the city of Brno on 28 March 1914 to an unmarried mother, Marie Božena Kiliánová. Brno was then the province of Moravia within Austria-Hungary.
In 1956, He married Eliška Plevová ('Pipsi' to Him), the daughter of Karel Pleva. Karel Pleva was procurator and manager of a wood factory in the South Moravian town of Břeclav. In 1965, the couple bought a country cottage in Kersko, near Nymburk; the cottage became home to his numerous cats.
"Closely Observed Trains (Ostře sledované vlaky, 1965)" and "I Served the King of England (1971)"are His two best-known novels. The acclaimed Czech director Jiří Menzel made both novels into movies in 1966 and 2006, respectively. He worked closely with Menzel on the script for Closely Observed Trains which won the Academy Award for Best Foreign Language Film in 1968.
The Author died in February 1997 after falling from a window on the fifth floor of the Bulovka Hospital in Prague, attempting to feed pigeons. However, that suicides were mentioned in several of his books, and early in the morning on the day of his death he mentioned an "invitation" he received in his dream from a dead poet, buried in the cemetery next to hospital. His doctor had no doubts about his death being a suicide and buried in his family's crypt in a cemetery in Hradištko. According to his wishes, he buried in an oak coffin marked with the inscription "Pivovar Polná" (Polná Brewery), the brewery where his mother and stepfather had met.  [source Wikipedia]
Question for Radio Prague February Quiz:
Who is the author of the novels:
"Closely Watched Trains", "I Served the King of England" and "Too Loud a Solitude"?
Answers should be sent to cr@radio.cz by the end of the month.
The winners will be featured on Radio Prague's website.
Be a Lucky Winner




---
---
Social tagging:
Quiz
>
Radio Cz
>
Radio Prague
>
Radio Quiz