Radio Praha announces Quiz of the month, Radio Prague June 2017 quiz. The first day of each month Radio Prague ask a question on Czech History, Culture or any thing related Prague. From each correct answer Radio Prague selected six winners of the month.
For the month of June Radio Prague chosen a tragic massacre of Czechoslovakia. In the year 1942 the Nazi drove this massacre on the Czech land.
Radio Prague June 2017 quiz question :
75 years ago, on June 10, a village near Prague razed to the ground by the Nazis in one of the worst atrocities committed on Czech soil. What is the name of the village?
Deadline of this contest is June 30, 2017. Winners will announce on Radio Prague's web on July 01, 2017.
Here some additional Information of this Massacre in the year 1942.
The 1942 Massacre in Prague:
The massacre was a complete destruction of the village near Prague.  It was in the Protectorate of Bohemia and Moravia, now in the Czech Republic. In June 1942 on orders from Adolf Hitler and Reichsführer-SS Heinrich Himmler. In reprisal for the assassination of Reich Protector Reinhard Heydrich in the late spring of 1942, all 173 men over 15 years of age fr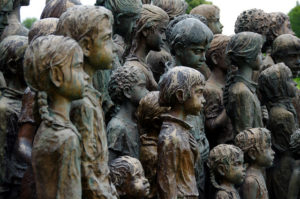 om the village were executed on 10 June 1942.
Another 11 men who were not in the village also arrested. The 184 women and 88 children deported into the concentration camps. A few children, who are considered racially suitable for Germanization were handed over to SS families. Rest were sent to the Chełmno extermination camp where they were gassed to death.
About 340 people died because of the German reprisal (192 men, 60 women and 88 children) and after the war ended, only 153 women and 17 children returned.
---
More on Radio Prague: | May 2017 Quiz | February 2017 Quiz |
---
Social tagging:
Quiz
>
Radio Cz
>
Radio Prague