Radio Prague October 2017 Quiz is now available on the web of Radio Cz. It's time to test your knowledge of things of Czech!  For the month of October Radio Prague asks question on Great Pardubice Steeplechase.
At the end of October 2017 six winners from the correct answers will select. Send your answer and be a lucky winner
Radio Prague October 2017 Quiz:
Question for October:
What is the name of the toughest hurdle in the Great Pardubice Steeplechase?
Send your Answer by email to Radio CZ.
Radio Prague October 2017 Quiz Hints:
Great Pardubice Steeplechase:
A steeplechase is a distance horse race with jump diverse fence and ditch obstacles. Steeple chasing originated in Ireland in the 18th century. It was a cross-country thoroughbred horse races which went from church steeple to church steeple.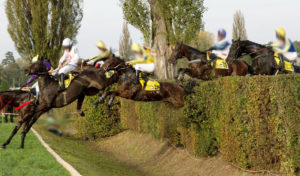 The Velká pardubická Steeplechase in Pardubice is one of the longest steeplechase races in Europe. It is in the Czech Republic. The first Velka Pardubice Steeplechase was held on 5 November 1874. Since then it is an annual event of Czech Republic. It considered the oldest and probably the most difficult cross country horse race on the continent. It takes place on the every second Sunday in October.
The total length of the steeplechase is 6.9 km, with 31 obstacles. The current steeplechase course was established in 1856. However the course first took just after the Second World War. The most feared of them – the Taxis Ditch, may be jumped only once a year. This is the most famous obstacle in the race. It is the fourth fence. In the past it consisted of a 2 m deep and 5 m long ditch hidden behind a 1.5 m high hedge. Nowadays, it is a 1 m deep and 4 m long ditch with a 1.5 m high hedge. 28 horses have died at this obstacle.
---
More on Radio Prague Quiz: | September 2017 | August 2017 | Radio Prague |
---
Social tagging:
Quiz
>
Radio Cz
>
Radio Prague
>
Radio Quiz