Czech Radio English Service announces the Radio Praha December 2017 quiz. This year's last quiz focused on the traditional Christmas food. Radio Prague Christmas quiz is on Fish. Believe it or not  many of the Czech's buy this fish before Christmas and keep it in the bathtub until it to prepare and eat.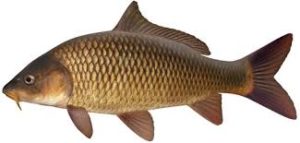 Radio Praha December 2017 Quiz Question:
Czech Radio, Radio Praha December quiz question is:
What type of Fish is part of the traditional Czech Christmas Dinner?
You have to send your answer before the end of year 2017. Six winners will be select from all the correct answers received by Czech Radio. Answer should be sent by Email.
Traditional Czech Christmas Menu
Czech's has several Christmas menu for dinner. But the fish of Radio Praha December 2017 quiz is the star of all.
In this article we are would like to prepare Carp a Bleu.
How to prepare?
There are various species of Carp found all over the world. It is a native fish of Europe and Asia. This oily freshwater fish comes from the family Cyprinidae.
Carp has a significant part of a Czech Christmas dinner. Usually, the carp is fried and served with potato salad. But Carp a Bleu is very traditional and simple option for Christmas dinner of Czech people.
Ingredients: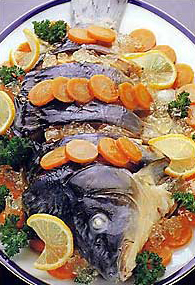 6 pieces of prepared carp
3 teaspoons of salt
1 soup spoon of vinegar
1 small onion
a couple of peppercorns, different herbs, bay leaves,
100g of butter and
100 g of root vegetables (carrots, celery, parsley).
How to prepare Carp a Bleu?
Pour half a liter of water into a pot.
Add salt, vinegar, a halved onion, herbs and diced root vegetables and bring water to a boil.
Add the carp and water (as much as needed) so that the pieces of fish are under water.
Cook slowly for 15 minutes until meat is tender.
Carefully remove the meat, put into a bowl and pour melted butter on top.
Carp a Bleu is ready to serve.



[Source: Radio Prague English Website (old version), Picture credit Radio Prague old web portal]
Social tagging:
Quiz
>
Radio Prague