Radio Taiwan International going to celebrate it's 90th anniversary this year. To make it more colorful RTI Going Green Video Competition going on.  Winners will receive not only a cash prize, but also an opportunity to be covered in the global media. Furthermore, they will be invited to attend a sustainable development workshop to exchange views about environmental protection with distinguished journalists. The workshop is jointly sponsored by RTI and the Association for International Broadcasting (AIB).
RTI Going Green : Theme
RTI's 90th Anniversary Going Green Video Competition.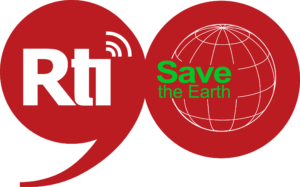 The United Nations' Sustainable Development Goals (SDGs) aim to end poverty, combat climate change and protect the environment. As many countries around the world are facing those problems, RTI, an international broadcaster, is inviting listeners around the world to come up with ideas about ways of protecting the environment in daily life. Listeners are welcome to send us videos about ways they think the public can help make the world a better place.
Details of the Competition
Video Filming : 
While filming the video clip, participants should follow the following instructions:
Video Length:

 90 seconds (not including ending sequence)
Format: 16:9 Full HD, 1080X1920

Title:

(Name of the video)

 with RTI's Going Green!
Ending: Include a creative ending with the lights turning off and the logo for "RTI's Going Green!"

Entries must include:

one idea for protecting the environment in daily life; a creative ending with the lights turning off; and the "RTI's Going Green" logo.
No restrictions on style, format or filming equipment.

Language:

must be in Chinese and/or English
Participants must upload and set entries in "public" mode on YouTube and provide a link for the organizer. RTI will open a contest page on YouTube with qualified videos added to the page.
Evaluation Criteria:
Presentation (30%), creativity and aesthetics (30%), filming skills (20%), page views at the time of judging (20%). There is no restriction on age or nationality. Entrants are liable for paying taxes on prize money, where applicable.
Deadline of the competition:
Submissions will be accept by Tuesday, July 31, 2018 at 5:00pm. (Taipei Time).
Winners will announce on Friday, August 10, 2018.
An award ceremony will be held on Thursday, September 27, 2018.
Prizes
Grand Prize: US$ 1,250 (NT$37,500) and  a Certificate.

2nd Prize:

US$ 1,000 (NT$30,000) and a Certificate.

3rd Prize:

US$ 625 (NT$18,750) with a certificate.

Honorable Mention

(10): Certificate.
In addition to a cash prize and a certificate, the top three winners will also receive additional prizes worth NT$21,620. (*winners are responsible for taking out event-related insurance)
The additional prizes for the top three winners include:
One night at a five-star hotel (Value: NT$15,000).
An invitation to RTI's 90th Anniversary Gala Dinner on Sept. 27 as a distinguished guest. [The gala dinner on Sept. 27 will be held at a five-star hotel (value: NT$3,000).]
Invitation to an international workshop to exchange views with internationally distinguished journalists on Sept. 28.
A Taipei Fun Pass for two days (value: NT$620– covers Taipei, New Taipei and Keelung).
Airport pick-up from Taiwan Taoyuan International Airport (value: NT$3,000)
Notes:
Airport pick-up is only for foreign nationals living outside of Taiwan.
Foreign nationals living in Taiwan and ROC citizens are entitled to items 1 to 5 mentioned above.
Winners must provide the following items:

A shorter, 30-second video will play at the symposium and the workshop.
An agreement on the authorization of rights of likeness. (every individual filmed in the video must sign an agreement authorizing the use of their likeness)
An agreement on the authorization and transfer of economic rights. (Every entrant must sign.)
How to Register:
To register into this contest, participants must fill the online registration form. <<<LINK>>>
* Participants agree to provide RTI with their contact information. RTI guarantees that the information will not be used for other purposes, nor will RTI keep the information provided by those who do not receive an award, after the event ends. The information is simply used for verification and award notifications.
Rules and Regulations : Before taking part in this contest participants should read the rules and regulations from the RTI 90th anniversary Going Green video Competition.
Social tagging:
Quiz
>
Radio Quiz
>
RTI
>
Video Competition