Weekly mailbag bag show of Radio France International is the Sound Kitchen. Last week of January 2018 dish was on Top French chef who died on 20 January 2018.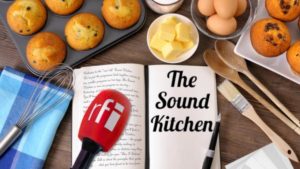 Before discussing over the Famous Chef of France here is the winner of January 27, 2018. (Quiz for 23 December 2017). Here they are:
Winners December 23, 2017 Quiz
McEdwin Ifeanyi Obi from Banjul, Gambia
Hans Verner Lollike from Hedehusene, Denmark
Nestord Cho Kama from Bamenda, Cameroon
Bithi Khaton from Naogaon, Bangladesh
Jörg-Clemens Hoffmann from Alsbach-Hähnlein in Germany
Recipe of  Top French chef
TOMATO RISOTTO
(Source: Staub.com)
PORTION  04 person
PREPARATION 15 min.
COOKING TIME 40 min.
INGREDIENTS
Tomatoes – 700 g
Pearl Onions (medium-sized)- 4
Olive Oil – 4-5 tbsp.
Meat Broth from the stew – 500 ml
Rice – 250 g
Grated Parmesan – 75 g
Salt, pepper


Optional for traditional preparation:

1 pinch saffron
PREPARATION
Goes very well with stew. Pour boiling water over the tomatoes, remove the skins and cut into pieces.
Peel the onions and chop on a board. Heat 2 tbsp. of olive oil and steam the onions until they become translucent.
Add the tomatoes. Stir with a wooden spoon and simmer for 15-20 minutes.
Heat the meat broth from the stew. Add the remaining olive oil to a Cocotte, heat and add the rice.
Stir with a wooden spoon. As soon as the rice is translucent, add the tomatoes, onions and enough broth from the stewpot so that everything is covered.
Add salt and pepper. A pinch of saffron may also be added and stirred in if desired.
Simmer uncovered. Simmer at a mild heat for 18-20 minutes always adding the broth.
Add the Parmesan shortly before serving. Stir carefully.
Arrange on the serving dish.
Serve hot.
[Recipe extract from Paul Bocuse's book "BOCUSE dans votre cuisine" – Editions Flammarion.]
Paul Bocuse: Top French chef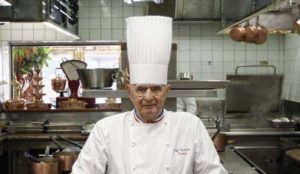 More than 1,500 chefs and fans of French cuisine were in Lyon on Friday to honor their ""pope of French cuisine". Paul Bocuse, a highly celebrated French chef died last Saturday aged 91. The pioneering chef, died in the town of Collonges-au-Mont-d'. Here he was born and ran his main luxury restaurant of three Michelin stars. French President Emmanuel Macron paid tribute, describing him as the "incarnation of French cuisine".
Born into a family of cooks that dates to the 1700s, Bocuse presided over the kitchen of his world-famous red and green restaurant, L'Auberge du Pont de Collonges, and often greeted guests even in retirement. His renowned dining spot, which features a painting of the master chef himself on a wall.
A LIFE IN DATES (1926-1959)

11 February 1926: Born in Colognes to restaurateurs Georges Bocuse and Irma, née Roulier;
1936: Parents take over maternal grandparents' hotel, changing it to the Auberge du Pont;
1941: Starts work at Claude Maret's La Solerie restaurant in Lyon;
1944: Joins General Charles de Gaulle's liberation armuy;
1946: Employed by Eugène Brazier at the Col de la Luère near Lyon;
1946: Marries Raymonde Duvent:
1947: Daughter Françoise born;
1940s and 50s: Works in varioius restaurants in Paris and other cities;
1958: Returns to work at family restaurant in Collonges, awarded first Michelin star with his father;
1959: Father dies:
A LIFE IN DATES (1961-2018)
1961: Wins Meilleur Ouvrier de France competition;
1962: Second Michelin star for l'Auberge Guingette;
1965: Third Michelin star;
1969: Son Jérôme born;
1970: Establishes the Société de la Grande Cuisine Française;
1975: Awarded Légion d'honneur by President Valérie Giscard d'Estaing;
1987: Establishes the Bocuse d'Or world cookery championship:
1990: Establishes the Paul Bocuse Institute chefs' school;
1991: First chef to be represented as a waxwork in Paris's Musée Grevin;
2004: Established the Paul Bocuse Foundation to train chefs, made a Commandeur de la Légion d'honneur by President Jacques Chirac;
2007: Opens first restaurant in Japan;
2011: Named Chef of the Century by the Culinary Institute of America;
2015: Jérôme Bocuse takes over running of Lyon brasseries;
20 January 2018: Dies at his restaurant in Collonges.
[Source : RFI English]
Sound Kitchen Quiz
For the question of January 27, 2018, you have to visit RFI Sound Kitchen. This article helps you to find out the correct answer. Be sure to recheck the answer, as we don't call our's one is right.
Please note, you have to send your answer before 26 February 2018. Winners will select on the next week's show (03 March 2018).
Address
Susan Owensby
RFI – The Sound Kitchen
80, rue Camille Desmoulins
92130 Issy-les-Moulineaux
France
Email : RFI Sound Kitchen or
SMS +33 6 31 12 96 82
Don't forget to write your name and address, with you RFI ID (if you any).
---
More  RFI QUIZ
---
Social tagging:
Quiz
>
Radio Quiz
>
RFI
>
Sound Kitchen