Voice of Turkey TRT January 2019 Quiz Question of Urdu service has been announced.  In the first week of January 2019, Voice of Turkey – TRT disclosed the quiz question. Listeners have to send their entry by the end of this month. UNESCO Heritage site is the main focus of January 2019 quiz. 


TRT January 2019 : Question of the Month
Göbekli Tepe is an archaeological site in the Southeastern Anatolia Region of Turkey. It is approximately 12 km (7 mi) northeast of the city of Şanlıurfa. The tell has a height of 15 m (49 ft) and is about 300 m (980 ft) in diameter. It is approximately 760 m (2,490 ft) above sea level.
The site first noted in a survey conducted by Istanbul University. In 1963 American archaeologist Peter Benedict identified lithic collected from the surface of the site as belonging to the A ceramic Neolithic. But mistook stone slabs (the upper parts of the T-shaped pillars) for grave markers.
Question of the Month : January 2019 of TRT Urdu service is :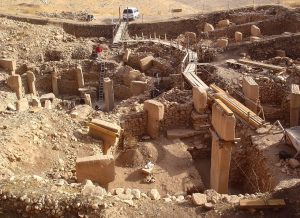 In which province, the excavation site Göbeclitepe lies, that has been added to the list of UNESCO World Heritage Sites?
Is it
Gaziantep
Sanliurfa
Corum
Please send your answer by 31 January 2019. You can send your answer by email or the traditional mail [Post Box No. 333 Post Code No 06443, Annie City. Ankara. Turkey].
Also, by Fax: 00-90-312-463 3454.
From TRT website you can also take part in this contest.  Web address is TRT Radio.
---
For more on TRT, Please Visit TRT Quiz
---
Social tagging:
Quiz
>
Radio Quiz
>
TRT
>
TRT Urdu Quiz
>
Turkey Heritage
>
UNESCO Heritage Turkey
>
Voice of Turkey