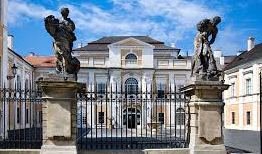 Are you ready to Join Radio Prague August 2017 Quiz! Test your knowledge on Czech and win prizes by taking part into the Radio Prague's contest. You have to send your answer before the end of of this month. Six lucky winners will announce at the end of August 2017.
Radio Prague August 2017 Quiz
Question : What is the name of the chateau where Giacomo Casanova spent the last years of his life? 
Send your answer to cr@radio.cz .
Giacomo Casanova
Giacomo Girolamo Casanova, an Italian adventurer and author was born in Venice in 2nd April 1725. At the time of Casanova's birth, the city of Venice thrived as the pleasure capital of Europe, ruled by political and religious conservatives who tolerated social vices and encouraged tourism.
He had spent the last dozen years in discontented retirement as the amiable count's gentleman-librarian, in a humdrum. Giacomo Casanova died on June 4th, 1798 at the Castle of Dux in Bohemia (now Duchcov in the Czech Republic).
---
More Quiz of Radio Prgue: | July Quiz 2017 | June Quiz 2017 | May Quiz 2017 |
---
Social tagging:
Quiz
>
Radio Cz
>
Radio Prague