RRI Contest 2018 : Alba Iulia – The City of the Union launched April 01, 2018. Listeners are invited to join the contest and win Grand prize from Radio Romania International.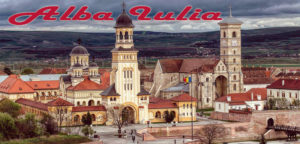 RRI Contest 2018 : Alba Iulia – The City of the Unio
Radio Romania International invites listeners, viewers and followers to participate in a new prize winning contest, entitled "Alba Iulia – the City of the Union" devoted to the celebration of 100 years since the territories with a predominantly Romanian population united in a nation state.
Rules of the Contest
Deadline of the contest is June 30, 2018. (Mid night Romanian Time for online entry)
Grand Prize winners must have valid passport
Winner will have to cover the cost of the foreign travel expenses to and from Romania
Visa fee also paid the winner (if needed)
Along with the answer of all question, participants have to explain, what prompted him/her to participate in the contest and why s/he listen to RRI's broadcasts and follow RRI's content online.
Alba Iulia : the City of National Day
The National Day of Romania is celebrated in all the towns and cities of the country, but, Alba Iulia is the city, where the Union was carried into effect almost 100 years ago. It stands to reason that the festivities and ceremonies carried out here should be the most spectacular.  Major political and even cultural figures of Romania come to Alba Iulia on December the 1st to attend the various events as a rule. They dedicated to celebrating mainly the three most important aspects of the Union:
The military that made it possible,
The spiritual component that united all Romanians under the flag of Christianity, and
The cultural aspect, with everything involved in it, from unity of language to the coherence of cultural values.
Questions of Alba Iulia – the City of the Union
What does Romania celebrate on December 1 and what is the significance of this celebration?
Which city hosted the Grand National Assembly of December 1, 1918?
In what part of Romania is Alba Iulia located?
---
For more on this Contest : Visit RRI Contest
---
Address 
Participants have to send their answer towards any of the following address:
Postal Address:
Radio Romania International,
60-64, General Berthelot street, sector 1,
Bucharest, area code 010165 (PO Box 111), Romania
Email: RRI Email
Also on RRI's Facebook, Google+, Twitter and LinkedIn profiles, by fax at 00.40.21.319.05.62
---
For more Quiz on RRI : Visit RRI More Quiz
---
Social tagging:
Alba Iulia
>
Quiz
>
Radio Quiz
>
RRI