Deutsc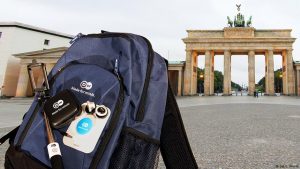 he Welle, Germany's Public International Broadcaster, announced Quiz contest for their travel show "Check-in". you can Win A DW Smartphone Set accessories, from DW by taking part in this contest.  DW audience competition is going into the next round and again looking for your best travel videos. No matter whether you have filmed dynamic metropolises or exotic landscapes, a coincidental gesture or a magical moment on your journey – send our holiday video and win!
Win A DW Smartphone Set accessories

First consider these following questions :
Have you captured unique images of your journey on video?
Did you discover a special small event in the middle of Tokyo's urban jungle? Or
Have you met unspoiled nature and hospitable people in Mongolia – both foreign and familiar at the same time?
Did you use a drone to view landscapes from above?
Or did you capture another great moment of your journey on video?
Then take part in DW video contest with the best travel video and win a DW backpack with video accessories.
Send Video and be a Hero
All videos received by DW, have the chance to be selected into the TV Travel Magazine show, Check-in of Deutsche Welle, which aired every week. Check-in Show host Nicole Frölich and Lukas Stege will present those selected video of the week. May be your will be one of them. So send your video and be a hero.
How you can Participate
To take part in this contest you have to follw the following conditions –
Filmed your video clip with a smartphone or video camera by yourself;
Please consider the video size upto 180MB;
Video should be at least one minute in length;
 No text allowed into the video;
You nay use music. If you then you should mention the Name of Singer and the title of the song;
Please enclosed a short paragraph of this video, ie.  which holiday and destination and what is the worth of this video, etc.
Finally upload your video through the following link
---
More Quiz on DW
---
Social tagging:
DW
>
DW Quiz
>
Quiz
>
Radio Quiz
>
Video Competition