Maramures Quiz of Radio Romania International  announce today.  RRI invites listeners to participate in a new prize winning contest, "Maramures – culture and traditions at the heart of Europe".Maramures is one of the most beautiful and most visited regions in Romania.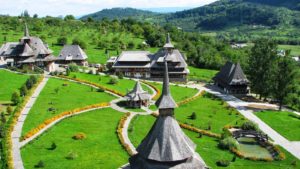 The contest is  jointly organised by
Maramures County Council;
Baia Mare Town Hall;
County Museum of Arts "Baia Mare Artistic Centre";
Baia Mare Branch of the Visual Artists' Union and
Romanian Orthodox Diocese of Maramures and Satmar.
Deadline of this contest is November 30, 2017, mailing date (November 30, at midnight, Romania's time, for the online participants).
Maramures Quiz Radio Romania International 
Questions:
– Which part of Romania is Maramures located in?
– What is the name of the famous funerary art monument, one of the area's main attractions?
– How many wooden churches in Maramures are on the UNESCO heritage list?
– What is the name of the county's capital?
– What prompted you to participate in the contest?and why you listen to RRI's broadcasts and follow RRI's content online?
Maramures – culture and traditions at the heart of Europe
Maramureș, a geographical, historical and ethno-cultural region, located at the geographic center of Europe. Maramures has always been a fascinating area due to its beautiful landscapes and the hospitality of its inhabitants. It is a lovely places for walks and adventure tourism. The eight wooden churches of Maramures included on the UNESCO heritage list. The merry cemetery in Sapanta is the work of the folk artist Stan Ioan Patras.
The county capital Baia Mare is the birthplace of the Nobel prize winenr Elie Wiesel. The beauty of the places and the hospitality of the inhabitants fascinate the foreigners.
Address:
Radio Romania International,
60-64 G-ral Berthelot Street,
District 1, Bucharest,
PO Box 111, zip code 010165,
fax 00.40.21.319.05.62,
E-mail: RRI.
---
More on Radio Romania International: RRI Quiz 2017 | RRI A17 |
---
Social tagging:
Quiz
>
Radio Quiz
>
RRI