Into the My Slovakia Round 7, Mr Gavin Shoebridge try to explore the White Cave of Slovakia. He not only explore it for himself, but also disclosed it to all the RSI Listeners.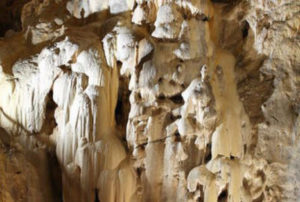 My Slovakia Round 7
September Quiz My Slovakia Round 7 question:
How far of the cave above the parking lot?
You have to send your answer before 30th September 2017. You may send it by email RSI ENGLISH or by regular mail. the Address is:
Radio Slovakia International
English Section
Mýtna 1, PO BOX 55 817 55
Bratislava, Slovensko
Harmanecká Cave
Harmanecká Cave is a stalactite cave in Central Slovakia. It is located on the northern side of the Kotolnica massif in the Staré Hory and Kremnica mountain ranges and south of the Veľká Fatra Mountain. It is formed from Middle Triassic dark-grey limestone (Gutenstein) and 220 million years of age. The entrance to the cave is situated at an altitude of 821 m and 260 m above the bottom of the Harmanec valley.
It is 250 KM from Bratislava, of Slovakia and usually the inside temperature is 5.8 to 6.4 Celsius. It is only one thousand and five hundred meter from the parking lot. Though 2700 m of underground passage discover but only 720 m are open for public now.
The local people knew about the entrance of the Cave such a long. It was their Izbica, the shelter during the bad weather. Michal Bacúrik discovered the cave on 22 June 1932, when he was only 18. The Cave opened for public in the year 1950. In 1972 Harmanecká Cave registered as a national mountain.
---
More on RSI Quiz | My Slovakia Round 5 | My Slovakia Round 2 | RSI QUIZ and QSL |
---
Social tagging:
Quiz
>
Radio Quiz
>
RSI